Seattle Highlights
Welcome to Seattle! We know your time is limited on this trip but we hope you have the opportunity to visit some of our favorite spots in downtown Seattle.
Seattle – The Quick Version: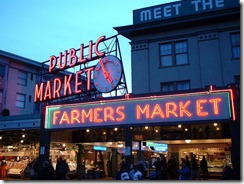 9:00am – Walk from the hotel to Pike Place Market for breakfast.  There are quite a few bakeries and pastry shops  within the market where you can eat.  Walk through the market and check out the the famous fish throwers and remember to rub the snout of Rachel the Pig before you leave!
10:30am – Check out the original Starbucks and Ben's favorite artesian olive oil shop, Sotto Voce!  We cook almost exclusively with olive oil from this store.
11:00am – Walk from Pike Place down to the Seattle waterfront.
12:00pm – Have lunch at any of the waterfront's fish bars. Our personal favorites are Steamers and Anthony's Fish Bar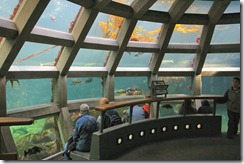 12:45pm -  Check out the Seattle Aquarium.  It is here you'll have a chance to experience what Ben and I see when we dive in the Puget Sound.  You'll get extra points if you see wolf eels and the sea otters.
2:00pm - Walk down the waterfront and head through the Olympic Sculpture Park on the way to the Seattle Center to check out the Space Needle.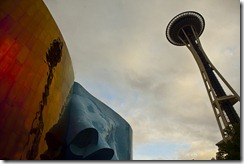 2:45pm - Walk to the Seattle Center, home of the 1962 World's Fair and home of the Space Needle. Head to the observation deck to check our the wonderful views!
4:00pm – Walk from the Space Needle and if you have time check out the  Experience Music Project and the Sci-Fi Museum.  If you're done for the day get on the Monorail and take it back from Westlake center!
Pressed for time?  Definitely check out Pike Place Market and the Space Needle.  Head to Pike Place Market first where you can either eat at the market or in Post Alley.  Afterwards head to the Space Needle, but if the weather isn't cooperating save your $$ (if its foggy/stormy etc the views from the Space Needle will be subpar – wait for another trip or try again before you leave) and head to the Seattle Aquarium or the Experience Music Project.   If you're dying to see the views you can also head to the Columbia Center where there is a Starbucks on the 40th Floor (basically, the elevator ride is free you'll just need to buy a cup of coffee which is cheaper than the ticket to the observation deck at the Space Needle).
Share