Posts tagged
DIY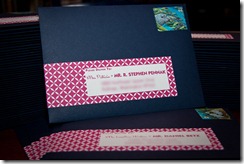 We hope everyone had a great Easter weekend!   And we have big news – Invitations went out last week!  We've received word that they've reached as far as Michigan already, so hopefully most everyone has gotten theirs by now.  The invitations were custom-designed by Dolce Design; these are the invites we won at the silent auction at Get Hitched, Give Hope last year.  We have to say, they're quite amazing!  Clean, simple, and classy, with a retro/deco feel – they totally fit that Mad Men/"Swanky Elegance" theme we're planning.  We won't post pictures of the actual invites here – we want that to be a surprise for you when you get them in the mail!  But take a look to the right and you'll see a whole batch of them all ready to mail.
As with our Save The Dates, we hand made the wraparound address labels.  This time we kicked it up a notch, using our theme fonts, the same as on the actual invitations, and the background matches the berry-colored envelope liner.  See… now you know a little bit of what the invitations look like :)  A while back we saw a blog post by another couple who had separate male and female theme fonts, and we loved that idea, so you'll see that used throughout all of the paper products from now until the wedding.  Call us geeks or over-planners or whatever, but we think it adds a neat extra touch that ties everything together :)  We're still planning a future post that will share our label templates for anyone that wants to do your own fantastic labels – look for that in the next couple of weeks!
So anyway, those are our invitations!  Don't forget to RSVP by May 1st!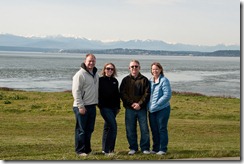 We'll leave you with a fun photo of us out on Whidbey Island from a few weeks ago when we had Ben's parents visit – it was a beautiful day to drive around Western Washington and take in the views of the ocean with the mountains in the distance.  This is at Fort Casey, which looked to me like a great location for filming "24" (sadly, it's been cancelled after this season, so that'll never happen).  Views like this are just one of the things everyone who's never been to Seattle can look forward to in May!  BTW, we also visited Deception Pass State Park on our adventurous drive – check out all the pictures on Ben's Flickr page.
Share
We just sent out our first batch of Save the Dates this week, in hopes that everyone will get them before Christmas.  We'll still have to mail a few later as we get the rest of the addresses for everyone, but we wanted to get the most of them out as soon as we could!  On the right is a picture of Alexa attaching one of our amazing address labels to the envelope – I think this one was for her grandparents.
Actually, we have a pretty cool story about our save the dates – we won them off of twitter from einvite.com!  And even better, we won the twitter contest just hours after also wining a charity silent auction at Get Hitched, Give Hope for our main invites.  So our save the dates are pretty cool, because we were able to get some awesome printing done for free :)  They're navy Crane & Co. cards with white engraved printing.  For a preview, take a look at einvite's blog post about them: http://einvitesinsights.blogspot.com/2009/11/alexa-and-bens-simply-gorgeous.html
But we couldn't just stop at having cool cards, we had to do something fun for the addressing, too.  Alexa had read about these Martha Stewart-inspired wraparound labels on a few wedding blogs she follows, so off we went to the craft store to figure out how to make them.  Well, really, she convinced me to stop there on the way home from work, and I spent 20 minutes attempting to figure out what kind of paper a label should be printed on.  3 hours of fighting with Word's mail merge feature later, we had some awesome labels printed, cut, sent through a Xyron 250 Sticker Maker, and voila! We'll post the template we made in a future blog entry so others can make them, too!  The design on the label is inspired by 1960's-era typography and a bold modern-retro background. 
After watching Mad Men and loving the fashion and style of the 1960's that it illustrates, we realized that would be the inspiration for the look and feel of our wedding (wow, that felt like a UI design discussion…).  We use the term "swanky elegance" to describe the atmosphere we're going for.  It's not really a theme per se, but more of the bit of inspiration we're using to help us envision our wedding.  Anyway, I don't want to go into that too much right now, so I'll leave you with a quick shot (on the left) of some of the finished save the date envelopes, from just before we put on the stamps and dropped them at the post office.  We hope you look forward to getting yours in the mail!
Share